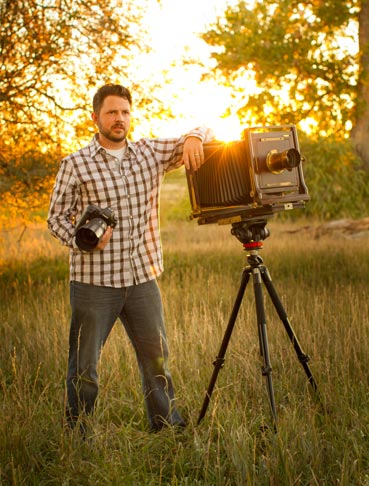 Wet plate collodion is a process that dates back to 1850 and was used until about the 30's. Commonly known as tintypes, they began to fall out of favor in 1870 once paper was invented. The photographs are created chemically. I make the compounds and pour the gooey substance onto a plate, which after being exposed to light, reveals an image. It's not a style, it's a process. Every plate is shot, developed, and fixed while the plate is wet; hence the name, "wet plate." The image is a positive — the image you see in the mirror. Film and digital are negatives, which is why some people think they don't look like themselves. It's the view they never see.

What I love about wet plate is that the photographs are truly handmade and unique. Each one has its own character and is not repeatable. It's not about making the perfect photograph. The beauty is in the errors and happy accidents. They have such inherent mood and feeling; something digital can't acheive. They are more like a painting than a photograph.
What really reasonated with me was the fact you can't fire off thousands and pick the best one afterward. You have to slow down and methodically plan/think about each photograph, from size and lens to camera selection.

I own several antique lenses and cameras dating from 1860 to the 1950s. Each has its own character and purpose. I think that's key to producing images that look 100 years old but were taken yesterday. I just love the connection to history.